Brief Information - Oil Filteration Equipment
Oil is a precious natural resource depleting at faster rate than ever before and if alternatives are not found, we will shortly run out of it.
Every little helps in ensuring truly sustainable future!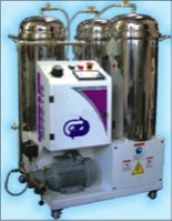 Hydraulic Oil with its many beneficial properties is used in industries for smooth operations, minimising aberration resistance and lower friction losses. While in operations it gets contaminated with many impurities such as metals, oxidation products, varnish, sludge, dust, fibre trash & water, etc. These impurities reduce the performance characteristics and leads to machine failure, drop in required viscosity increase in friction losses and power consumption and requires oil change over.
This oil if filtered using the right technology such as Electrostatic precipitation, helps extend life of oil substantially, maintaining all original performance properties saves money, a precious oil resource and the environment.
Some Facts and Figures
Use of Electrostatic Oil Cleaner (CDOC) regains the oil properties to NAS Class 5-6 standards. We supply different sizes of CDOC units ranging from 3 LPM to 40 LPM.
For detail technical information please refer to the attached product brochure in "Download Links" section.
SG AQUA Services & Technologies, UK are the UK & EU distributors of M/s. CEEDEE Vacuum Equipment Ltd, India, an ISO-9001 certified company with over 25 years expertise, successful performance history & millions saved on oil & maintenance expenses.
For quotations please send enquiry to contacts or email to [email protected]
Download Links

Download Electrostatic Oil Cleaner Brochure
Applications
• Plastic Machinery
• Construction industries
• Hydraulic Press
• Aviation
• Turbine oil
• Instrumentation & refrigeration
• Earth Moving Instruments
• Aluminium, Non ferrous extrusion
• Plywood press
• Survo Valve controlled Hydraulic systems
• Leather Processing
• Mining machinery
• Transmission euipment
• Machine tools
• Automobile industry
• Power press
• Steel industry
• Sugar mills